A statement for the season
1st September 2011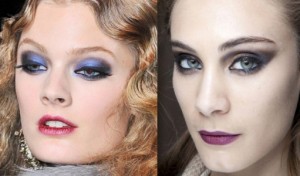 From natural looks to retro, sultry eyeliner and pitch-perfect red lips, get ready to make a statement this autumn winter season. Check out these new trends and don't be afraid to wear daring lipstick shades or dramatic eye makeup.
Draw your inspiration from these catwalk looks and give your makeup a wake up call. Whether you go for a classic, timeless look or for something bold and edgier, take a peek at these autumn winter makeup trends and devote a little time to experiment with some of the exciting glamtastic looks for the new season.
Seven key trends that may just deserve a very special place in your makeup bag this season!
Natural makeup
For autumn winter 2011 runways were awash with nude, flirty shades such as peach or beige. Radiant, flawless skin was spotted at Dolce & Gabbana and what can be more beautiful than a clean, healthy, fresh-looking skin? You can use nude makeup in order to enhance your natural beauty. Foundation, concealer, a touch of blush on the cheeks, and a sheer nude lipstick are the products you need for a hot natural makeup.
Soft blush
Oh-so-lovely cheekbones are so hot. For the season ahead, Oscar de la Renta, Marc Jacobs and Versace suggested a nude makeup with natural-looking flush. Think sculpted cheeks for an innocent, baby doll appearance! Use soft candy pink hues and dust some blush onto the apples of the cheeks or even lower as seen at Marc Jacobs.
Eyeliner
From eyes lined at the outer corners and thin winged lines to spectacular cat eyeliner undoubtedly adds a glossy, sultry flair. Simple and elegant sweeps of black liner were spotted at Marc Jacobs and Stella McCartney, while more jaw-dropping approaches were seen at D&G and Anna Sui. Changing the eyeliner style is the easiest trick to spice up your look in a classic and timeless way.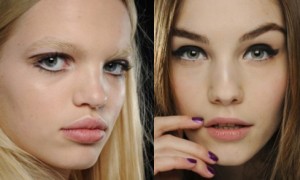 Metallics
Don't be afraid to try metallics for the eyes and get ready to make a striking impact. Chanel comes with a fearless, sophisticated combination of gray and black, while Christian Dior shows us how to rock boldly-coloured eyes and vampy lips in the same time. Even though emphasising both lips and eyes is a total no-no, you can actually pull off this look as seen at John Richmond. For daytime, opt for a gold or copper shadow as spotted at Chloe.
Orange eyeshadow
Orange is a universally flattering shade and it guarantees to draw the spotlight. Step into Autumn with a vibrant shade for the lids. Make your eyes stand out by applying an orange eyeshadow seen at Donna Karan and Kenzo, for a soft, warm glow. Team it with subtly red or pink lipstick in order to avoid an overwhelming effect.
Thick eyebrows
Thin must be a constant trend when it comes to your silhouette, but for your eyebrows thick is the key word. This season, your brows should have
a natural aspect as spotted at Alexander Wang, Oscar de la Renta and Jean Paul Gaultier. Get this look using an eyebrow pencil in a colour as close as the natural colour of hair and brows. Don't forget to trim and groom eyebrow hairs so they beautifully enhance the structure of your face.
Bold lips
This season, vamp it up with a dramatic lip shade. We've seen a parade of glamorous, boldly coloured lips for stunning, wow-factor looks. From oranges and sexy reds to more autumnal shades like burgundy. You'll definitely turn heads with fabulously daring lips. For the less adventurous you can pick stains instead of lipstick but remember to keep the rest of your makeup minimal.
This entry was posted on 1st September 2011 at 4:21 pm and is filed under News / Blog. You can follow any responses to this entry through the RSS 2.0 feed.