Block party
1st May 2011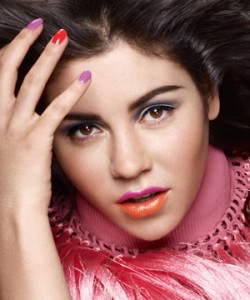 Block party – for the bold and the beautiful
The spring/summer 2011 campaigns were splashed with a whole spectrum of striking bright colours applied in very bold and eye-catching ways.
This season is all about strong lines, colour clashes and impact, so be brave, be bold, be outstanding throughout spring/summer time and forget the blending and get blocking.Embrace this trend and induldge in a spring fling by using multicoloured makeup to show off your playful and rebellious side.
The way to wear the look is actually very simple – splashes of bold colour either on the lips or the eyes.Base: natural and sunkissed. The skin is all about being fresh, natural and flawless, aim to even out your natural skin tone. 
Stay away from heavy foundations as you won't need them with this look. Apply a light sweep of bronzer over your forehead, cheeks and nose, the parts of your face that naturally become sun kissed. Finish with a sweep of  coral pink or peach blusher, to create a healthy and fresh glow.
Eyes: bright blocked colour: Choose an eyeshadow that has a strong pigment to it. If you find it fading throughout the day then apply with a damp brush for a more intense effect. Alternative apply a white eyeshadow first to help the colour pop.  Choose a bright bold Violet, green or a pale blue – these all feature heavily in this season's colouring book.
Lips: bright and bold: Always define and line your natural lip shape before applying a strong pigmented lipstick. You don't want this liner to be clearly visible as this isn't part of this look but it will help you to achieve a clean shape to fill in. Alternatively you can use a lip pencil in a strong shade to line and fill your lips with a strong colour and then use a clear gloss to bring that colour to life. Experiment with combo's like  Coral and fuchsia, red and peach, plum and orange.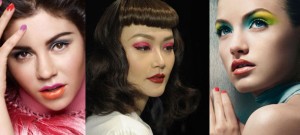 If you are not ready for such a bold makeup statement then try out the trend on your nails first. Paint your nails alternate colours, which is such a fun element to the look and a simple way to show that you are on-the ball when it comes to staying ahead.
Tags: bold, bright colours, colour, spring/summer 2011, strong lines
This entry was posted on 1st May 2011 at 6:22 pm and is filed under News / Blog. You can follow any responses to this entry through the RSS 2.0 feed.