Lit-from-within
1st August 2011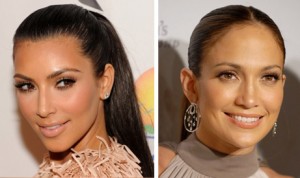 With grace and sophistication reminiscent of old Hollywood glamour, both Kim Kardashian and Jennifer Lopez always manage to look fresh and flawless 24/7. And these beauties know exactly how to keep – the glow!
As our summer gently fades away and autumn seems fast approaching, how can we mere mortals keep a hold onto our sun-kissed glow and look fabulous through-out the change of season.
By choosing clever makeup shades we can channel the sunshine right back onto our skin. Creating a visual-effect which is both subtle and alluring and one that appears almost as if 'lit-from-within'.
Regardless of your skin tone, adding a touch of gold will bring out the luminosity of your face, making your complexion radiate with warmth. The greatest advantage of a gold makeup is that it is universal, working well on all the skin tones and eye colours, whilst accentuating the most flattering assets of the face.
Gold makeup can look mysterious and breath-taking, it's fab, fun and easy. . . pull off the look by following these simple guidelines. . .
FACE: To gently even out the skin tone apply an illuminising tinted moisturiser. Then add a touch of warmth to your complexion by taking a large powder brush and sweeping a sheer veil of a matte bronzer above your brow, around and under your cheek bones, finishing at your chin.
CHEEKS: Apply a deep matt Bronzing Powder to the hollow of the cheeks, brush a shimmer blush onto the apples of the cheeks in a bronze rose and apply a light golden shimmer cream or iridescent powder right above the hollows of the cheeks and down the bridge of the nose.
EYES: Golds come in endless shades from the lighter and sunnier tones to the brownish and copper ones. This allows you to juggle with different shades and to create an array of visual-effects. Shift your concentration to the inner corner of the eye to secure the 'wow factor'. This will bring the focus and a sparkle to the eyes, and help to illuminate the centre of the face.
On the outer corners of the eyes, crease, and along the lower lash line apply a mid shade in a 'Rose Gold Shimmer' then to refine and shape the eye, blend a darker shade in 'bronze, rust or copper' from the outer corner of the eye, up to midline. The lighter and darker shades should blend seamlessly.
EYELINER: Line your upper lash line with the darkest brown or bronze eyeliner. Create a small delicate wing effect on the outer corner and smudge ( no hard lines here). To line the lower inside rim use a waterproof eyeliner with a light shimmer to help the look flow.
LASHES: Remember, to finish off and crown the look of your eyes, curl lashes using an eyelash curler before coating with lashings of mascara adding a rich texture with a big bold lash.
BROWS: Strong brows are back in a big way for Autumn winter so fill in sparse areas. To shape and define the brow use an angled brush with powder or apply soft strokes using a pencil, apply a wax to unruly brows and lock into place.
LIPS: Fill your lips with nude lip pencil. Apply satin lip gloss all over.
This entry was posted on 1st August 2011 at 4:19 pm and is filed under News / Blog. You can follow any responses to this entry through the RSS 2.0 feed.