Pretty in pink
1st April 2011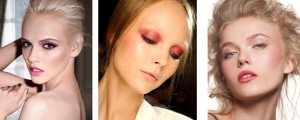 It's been a long, gray winter and time we started to inject some fun in to make-up shopping again and what better way to begin than to bath ourselves in the uplifting colour of pink!
Make-up is breaking all the rules and making such a big impact this spring, with bright full-on pink, almost red eyeshadow being just one of the many new make-up trends of this season. A very popular choice at the Dior, Valentino and Chanel spring summer shows. This look can be daring, but let's be honest, it's easy for a model to wear bright pink and still look gorgeous. But will the rest of us look a little crazy wearing fuchsia eye makeup?
The great thing about pink is that it's both slightly edgy and slightly princess, so it looks good in many forms and on many different types of women. And depending on how it it is applied, it can definitely be uplifting, soft and beautiful.
The trick, is simply knowing which shade to choose and what other make-up to pair it with. Below are a some foolproof tips for wearing pink eyeshadow.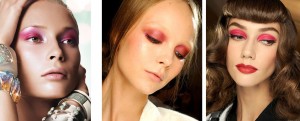 1. Choosing the right shade: The closer the eyeshadow colour veers towards a ruddy/red, the trickier it is to wear. If you are fair in skin tone then I would suggest using a pale, bluish-pink shadow. A vibrant flamingo pink for an olive complexion, and a warmer, more coral pink for darker skin, and the true hot pinks look especially gorgeous on a Latina complexion.
2. Full-on colour: Pink eyeshadow this season is meant to be daring, so wether it is day or night you can always 'wing it'. Choose a strong pigmented shade of a matte pink eyeshadow and apply it in a block all-over your upper lids, but not above the crease. Then, by sweeping it out, past the outer corners of your eyes you can create a wing- like effect. Try applying the eyeshadow with a damp brush to perfect the shape and finish with lashings of mascara.
3. Impact with black: To accentuate the colour further you need to team it with a black eyeliner or, at the very least, a lot of black mascara, this is true of any bright coloured eyeshadow. The black anchors the look and defines your eyes so you're not just seeing pink against bare skin, which can make you appear sickly, if black liner looks too heavy, you can pair it with a chocolate brown one instead. Warm up the cheeks, and keep the lips pale.
5. When in doubt, go sheer: If a heavily-pigmented shadow is too much colour for you, try dabbing a hot pink cream blush on your lids instead. The cream texture is less intense than a velvety powder and creates a fresher, more spring-like look. To prevent fading, prime your lids first, patting on the blush, then setting it with a dusting of translucent powder.
6. Pastel pink: Perhaps the easiest colour to apply, and also looks great on most skin tones. Just be sure to use a semi-transparent or sparkly pink, with a barely there pink hue. Extend the colour halfway up to the brow bone and wrap around to the outer corner of the eye, avoid any chalky and opaque pinks. Curl your lashes and keep your eyebrows brows groomed but soft.
Tip:
Regardless of which hue you pick, a bit of sparkly shimmer in your pink eyeshadow will help to make it obvious that your hue isn't the result of a seasonal allergy or tired eyes!
Tags: bright, Pink, Pretty, uplifting
This entry was posted on 1st April 2011 at 5:30 pm and is filed under News / Blog. You can follow any responses to this entry through the RSS 2.0 feed.